Hey all!

So the bike is good to go and we have been using them from time to time! Elder Flora and I both remained in Philomath so that's awesome! The work is slowly progressing as you will see in this email. I won't be done with training for another 5 weeks. Now on to the good stuff!!:)

So Monday didn't quite go as planned. After emailing, we (we as in me, Elder Flora, and Elder White) went to Corvallis to do shopping and such before going to the transfer spot to pick up Elder White's new companion. However, the transfer van blew a tire so they were an hour behind. So that forced us to cancel dinner haha! We made it back to Philomath in time for our lesson with the family we OYM'd Saturday but they were gone due to a family emergency! So yeah, pretty long day!

Tuesday we spent time getting boxes for a less active who was moving to Alaska that Thursday and doing some street contacting. We had a solid OYM but we haven't heard anything from her so hopefully we run into her again! She was jogging behind us and slowed down for some reason. We gave her a Family pamphlet and a Book of Mormon! We also had some random dude calling us like 4 times with *69 and yelling random things so that was interesting! We also had another lesson fail through that night so it was a bummer.

Wednesday we helped Dave pack and man, was it frustrating! We just weren't on the same page for a lot of things! We also read with Charlie and taught the Restoration to Mel.

Thursday was frustrating yet awesome... We had ANOTHER appointment fall through so that was irritating. Jennifer, the woman who ran me and Elder Flora down, was interviewed for baptism that night. However, the big miracle was when we saw Stan. He told us that he dropped coffee, tobacco, and soda and was working on alcohol and that he wanted to attend church with us soon!! He wants to get his daughters involved as well!!

Friday we tried to go see a lot of people after training and district meeting but we got nothing done so that was disappointing!

Saturday was tough... The morning started off well. We had a Pioneer Day activity and we attended with the hope that we'd have a few people we invited come but no one outside the ward came... It was fun though! After we got ready and headed to the stake center to fill the font for the baptism only for it to be canceled... It was a bummer... However it was only pushed back to a later date so it's still going to happen!

Sunday we had ward council with Elder Hansen, our Area Seventy. He bore his testimony about the Savior and also the Book of Mormon and MAN did it give me the chills! We had a discussion about eternal marriage in Gospel Principles and it almost got to an argument between the teacher and an investigator about why gay people can't be married in the temple among all the things that come with that topic. Yikes. But it was good because we were trying to help out the investigator with some of their concerns. We taught RJ more about the Atonement and had a member lesson with the Nelson's. We did some street contacting after dinner and ran into a less active whose records aren't found ANYWHERE and her and her husband have been living here for two years. It doesn't matter much because they go back to Utah on Tuesday. We also talked to a guy walking his two dogs and he told us he had a lot of respect for us for what we do!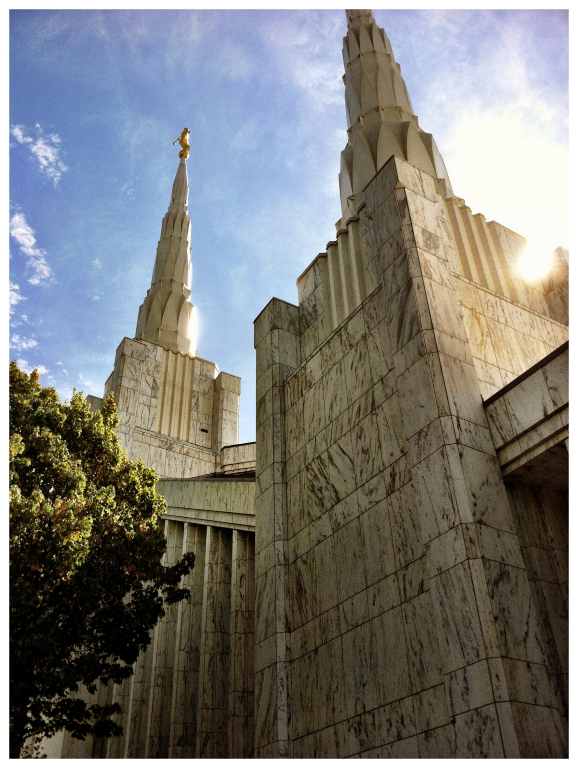 Portland Temple

I'm going to go ahead and say that this week is going to be awesome. We have interviews with President Russell, a huge service project (we think it's the junior Olympics) on Wednesday, and we get to go to the Portland temple on Saturday!! Pretty sweet huh??:)

I might have already shared this but I love what the gospel teaches about eternal families. It brings so much joy into my life knowing that I am sealed to an AWESOME family and that I can be sealed to my future wife for all eternity, not just till death. I am also grateful for the atonement of Jesus Christ and the wonderful blessings that come through repentance and following Christ. There is no doubt that this Church is true. There is no doubt.

I love you all. Till next time

Elder Tonini

Sent from my iPad